I've been a part of a dog forum for nearly 6 years now, joined shortly after I adopted Sawyer and met a wonderful lady at the dog park who pointed me towards Chazhound. It's a forum unlike any other in the level of caring and support the members provide. There are, as with any large group/family, squabbles, disagreements and the like. It comes with the territory. One thing that always stands the test of time and the one thing that truly sets Chaz apart from all other forums is how we can all set aside personal differences and band together to help dogs in need.
Like Miracle.
Miracle was found in an alley in Illinois, in the worst shape anyone had ever seen a dog be in and still have a heartbeat. If you watch "Animal Cops" on Animal Planet, you've probably seen something similar. I'm going to post a couple pictures, but be warned, they are heartwrenching. Get a box of tissues, shield your child's eyes or fortify yourself with a stiff shot of drink.
Ready?
Remember, this is NOT a dead dog. One of our members works with Doberman Rescue and alerted us to this case. Miracle is a literal bag of bones, but Miracle is fighting for each breath he takes. He's made it through the night now that he's getting 24/7 vet care. However, this is only the very beginning of a very long journey ahead of this poor boy. Those responsible for putting him in this state may never be found and brought to justice, but there's nothing that we can do about that.
IDR
PO Box 435, Barrington IL 60011.
Just note it's for the emaciated dobe from Gary Indiana. Any little bit helps, the rescue just took in another emaciated dog last week, so their funds are low already.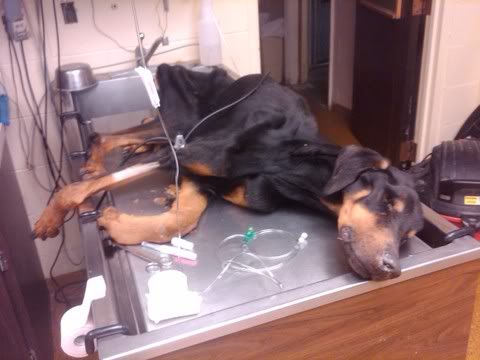 Don't you just want to stroke his ears and tell him it's ok?